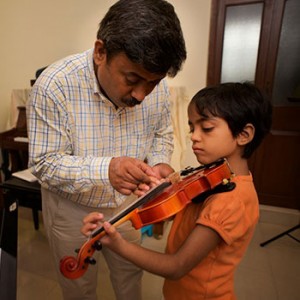 Becoming a musician starts with learning an instrument. The Foundation has a faculty of teachers who give individual and group lessons for various instruments and teach theory in groups. Besides musicality, lessons also help children develop a sense of discipline, concentration and social skills. The instruments taught at the Foundation are piano, violin, viola and cello. The Foundation also has a music therapist who works with children and adults with special needs.
Instrument students come in for one or two individual classes each week depending on the instrument they learn and are also expected to partake in group classes, theory classes and The Singing Tree. The Foundation has a string ensemble that meets weekly on Sundays and students are expected to participate in this class when invited to do so. In addition, the Foundation offers chamber music classes and expects students to partake regularly in performance classes.
How does learning a musical instrument benefit my child?
Learning an instrument has many advantages for growing children – playing an instrument stimulates parts of the brain responsible for the development of large and small motor skills and building the memory. Students who play an instrument learn to be organized and manage their time; they learn the skill of perseverance, focus and dedication. It teaches them to listen to (not just hear) one another, as playing an instrument involves learning to play with other instruments and becoming a team player. Instrument students at the Mehli Mehta Music Foundation have opportunities to be taught by conservatoire trained music teachers from the world over to deliver lessons in piano, violin, viola and cello.
Music practice develops self-discipline; a student who allots time for practicing each day is organized, disciplined and learns what it takes to be "good" at an activity.
Music is also an obvious outlet for self-expression and creativity.
The Ensemble and The Singing Tree also build teamwork and promote responsibility.
Learning to read music and play a musical instrument develops higher thinking skills like problem-solving, evaluation, and analysis.
Music can serve to build self-esteem and channelizes children – children who play an instrument are less likely to become involved with inappropriate or destructive habits.
Learning a musical instrument develops the values of learning with integrity, diligence, commitment, responsibility and cooperation; it inculcates a love of excellence and instils in students a respect for their teachers, for each other and for themselves.
What does the Foundation expect from its students?
Attendance on a weekly basis for two individual music lessons, one theory lesson and a choir class are essential for instrument students to commit to. The Foundation expects students to commit to daily practice and be regular, disciplined and punctual.
Who are the Instrument faculty?
Instrument Teachers
Violin / Viola
Piano
Instrument Accompanists