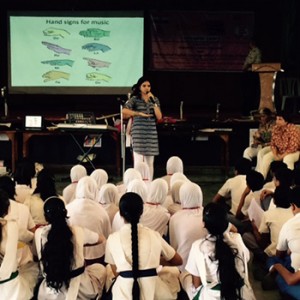 The Foundation's Outreach Programmes reach over 750 non-fee paying students from low income families in municipal schools managed by the NGOs we partner with. The schools and NGOs the Foundation works with include:
Aseema Charitable Trust: Early music education is delivered on a weekly basis in these schools where we teach music to a progression of classes at municipal schools. Students we reach are under the age of 8 at 2 municipal schools managed by Aseema Charitable Trust, the Pali Chimbai Municipal School where we teach 5 classes of approx 40 students and the Kherwadi Municipal School where we teach 5 classes of approx 40 students each. Our teachers have noted the benefits that both young children and teacher trainees have drawn from these classes, not only in terms of musicality and the enjoyment of participation, but also because these classes have helped them in their confidence, in their ability to focus, to listen and with their concentration.
Our programmes have also greatly enhanced students' and teacher trainees' language development and speaking skills and markedly boosted the development of young children's small and large motor skills. Selected students in our outreach programmes are offered short term choral music training yearly and participate each year in our annual Singing Tree choral music concert.