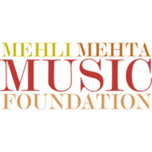 presents
Victor Julien-Laferrière – Cello
Guillaume Bellom – Piano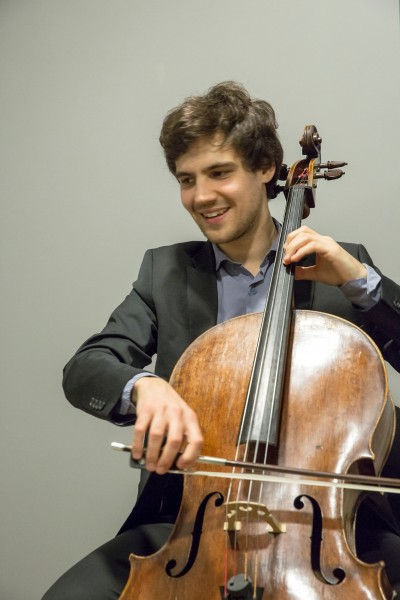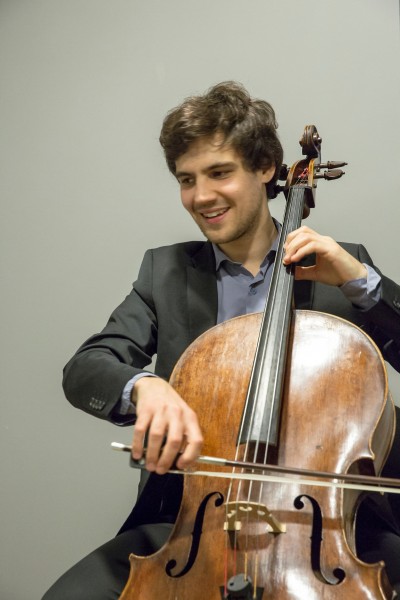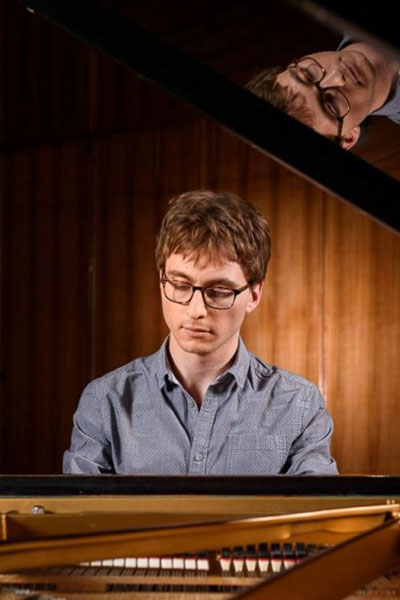 Friday, February 16, 2018
Royal Opera House at 7 pm
Victor Julien-Laferrière is the first prize winner of the Queen Elisabeth Competition 2017. Born in Paris in 1990, he has been a student at the Paris Conservatoire and subsequently in Vienna and Salzburg. He has performed as soloist with orchestras in France, Belgium, Russia, Czech Republic among others, and has also participated in several international festivals. He collaborates regularly with artists such as Augustin Dumay, Renaud Capucon, Adam Laloum, Jonas Vitaud, Raphaël Sévère, Lise Berthaud, Quatuor Strada, etc. His recordings have received the Diapason d'or in 2015 and 2016.
Guillaume Bellon is unusual in that he pursues one of the most atypical paths of his studies in both violin and piano. He is the winner of the "Modern Times" prize at the Clara Haskil 2015 Competition. More recently he has won the Thierry Scherz prize at the "Sommets Musicaux Gstaad". In 2017 he was nominated at the Victoires de la Musique in the "instrumental soloist revelations" category. Guillaume Bellom is a regular performing artist as soloist and chamber musician.
Supported by the BNP Paribas Foundation
Patron members may inform the MMMF office of their ticket requirements by Friday, January 19, 2018 or book directly with Book My Show from January 26, 2018 onwards.
Public – Book My Show from January 26, 2018 onwards
Ticket rates – Stalls Rs.700 + GST
Balcony Rs. 500 + GST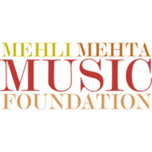 presents
"Schubert Plus"
on March 10 and 11, 2018
Experimental Theatre, NCPA at 7 PM

Two unique concerts with a focus on the piano Sonatas of Schubert.
The Mumbai debut of British pianist James Lisney. Over three years, Lisney will perform India's first cycle of the Schubert piano sonatas, presenting the eleven completed works alongside music by other great piano composers.
James Lisney enjoys a rich musical life, moving seamlessly from concerto and recital soloist to chamber musician, song accompanist and pianist director. Initiatives, such as his Schubertreise series at London`s South Bank Centre and his extensive Beethoven Project provide a platform for his wide-ranging musical sympathies. He has held residencies at New York's Carnegie Hall, the Amsterdam Concertgebouw and Leipzig's Gewandhaus and performed sonata cycles of Schubert and Beethoven in major venues in Berlin, Oxford, Cambridge, Brussels, Edinburgh and throughout France.
He has also performed with many of Europe's major symphony orchestras and his regular collaborators have included internationally acclaimed instrumentalists and singers. He has a distinguished discography on labels such as Carlton, Naxos, Somm, Bis and Woodhouse Editions.
Programme will include the works of Schubert and Chopin.
Ticket : Rs. 500/-
Box Office at NCPA
Dates:
February 9 – MMMF Patron members and NCPA members
February 12 – Public
Kala Ghoda Festival
– Students' Concert
Cross Maidan
10 & 11
March, 2018
Saturday &
SUNDAY
James Lisney
– Piano Recital
– Schubert Series
Experimental Theatre
The Singing Tree
– Students' Annual Choir Concert
Tata Theatre
16
September, 2018
SUNDAY
Aiysha Syed
– Violin Recital
Taj Club, Imperial Towers
28
September, 2018
Friday
Australian World
Orchestra, with Soloist Greta Bradman
Tata Theatre
Giuseppe Andaloro
– Piano Recital
Experimental Theatre
Ji Young Lim
– Violin Recital
Experimental Theatre